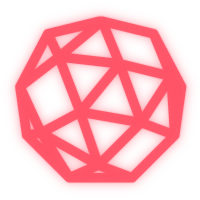 JOURNEY BACK TO THE FUTURE

REVISITING THE INVENTIONS OF MURRAY TOVI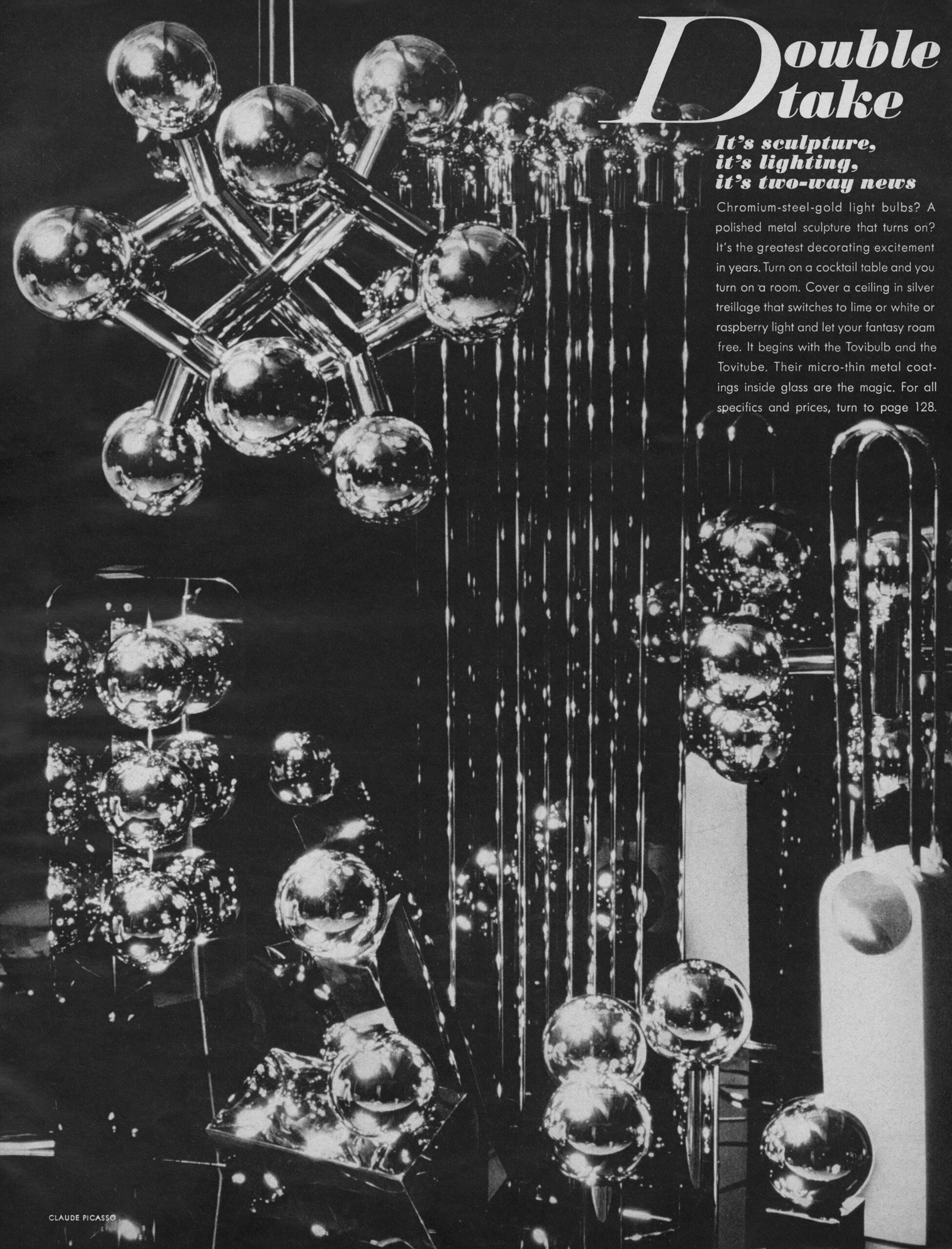 LIGHTING
TWO-WAY MIRROR ILLUMINATION
By Murray Tovi
Experimenting in 1970 with vacuum deposited and chemically grown semi transparent mirror films of gold and silver on glass, I became intrigued by the colors these thin films transmitted. Looking through silver you see blue, 24 karat gold appears green, copper pink, 18 karat gold aquamarine. Adding silica monoxide (glass burned free of oxygen) to silver in the vacuum process and transmission can be changed to purple, red, yellow, violet, etc. Polished metals in reflection; incredibly colored glasses in transmission. Based on that research the two way mirror incandescent Tovibulb was born.
Used by lighting manufacturers, designers, architects, space planners, and artists world-wide, it transformed much of contemporary lighting into sculpture. Tovibulbs marked the beginning of an exploration into making illumination and art one.  

SECURITY
MTDI SECURITY SYSTEM
By Murray Tovi
Having had experience working with two-way mirrors for Tovibulbs, I began my research into a new coating. The MTDI security system virtually replaced visible intimidating systems with a softer but more effective design. The invention was based on a new type of beam splitter developed in my laboratory. The coating, vacuum deposited, consisted of a multi-layer thin film of silver and silica monoxide creating a two-way mirror film with special characteristics related to the performance of a video camera. 
The system and authorized private label  manufactured by Murray Tovi Designs, Inc., spread globally.  Users included: the U.S. Army, Boeing, Sikorsky Aircraft, the Government of Venezuela, NATO, the Brussels Diamond Exchange, Credit Suisse, Hilton Hotels, Coca Cola Bottling Companies, NY University Hospital, Saks Fifth Ave, plus many other users world-wide.

Energy Conservation
TASK ENERGY SYSTEM
By Murray Tovi
The Task Energy System is based on a super-efficient distribution of energy utilizing a ceiling hung positioning device that can position a payload of light, purified cool or hot air, sound, etc. anywhere overhead in a open multi-functional space. Featured in the TV Documentary 'Emphasis on Art'.
More info below in Lighting Design & Application Magazine.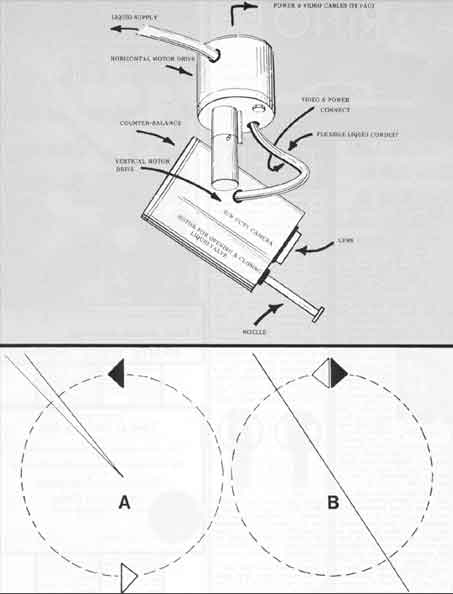 Fire Extinguishing
DISCRIMINATE EXTINGUISHING
By Murray Tovi
Automatic sprinkler systems put fires out with an umbrella of cascading water that causes millions of dollars in unnecessary damage each year. In 1975, I invented a semi-automatic remote-controlled extinguishing system designed to put out most fires within one to three minutes of detection using little more than a few gallons of water or semi-liquid foam. It consists of a ceiling-mounted motorized pointing device fitted with a video camera and a motorized nozzle connected by a semi-flexible hose to adjacent supplies of appropriate liquid. Video picture, direction drive and nozzle motor are connected electronically to a remote video monitor and controller.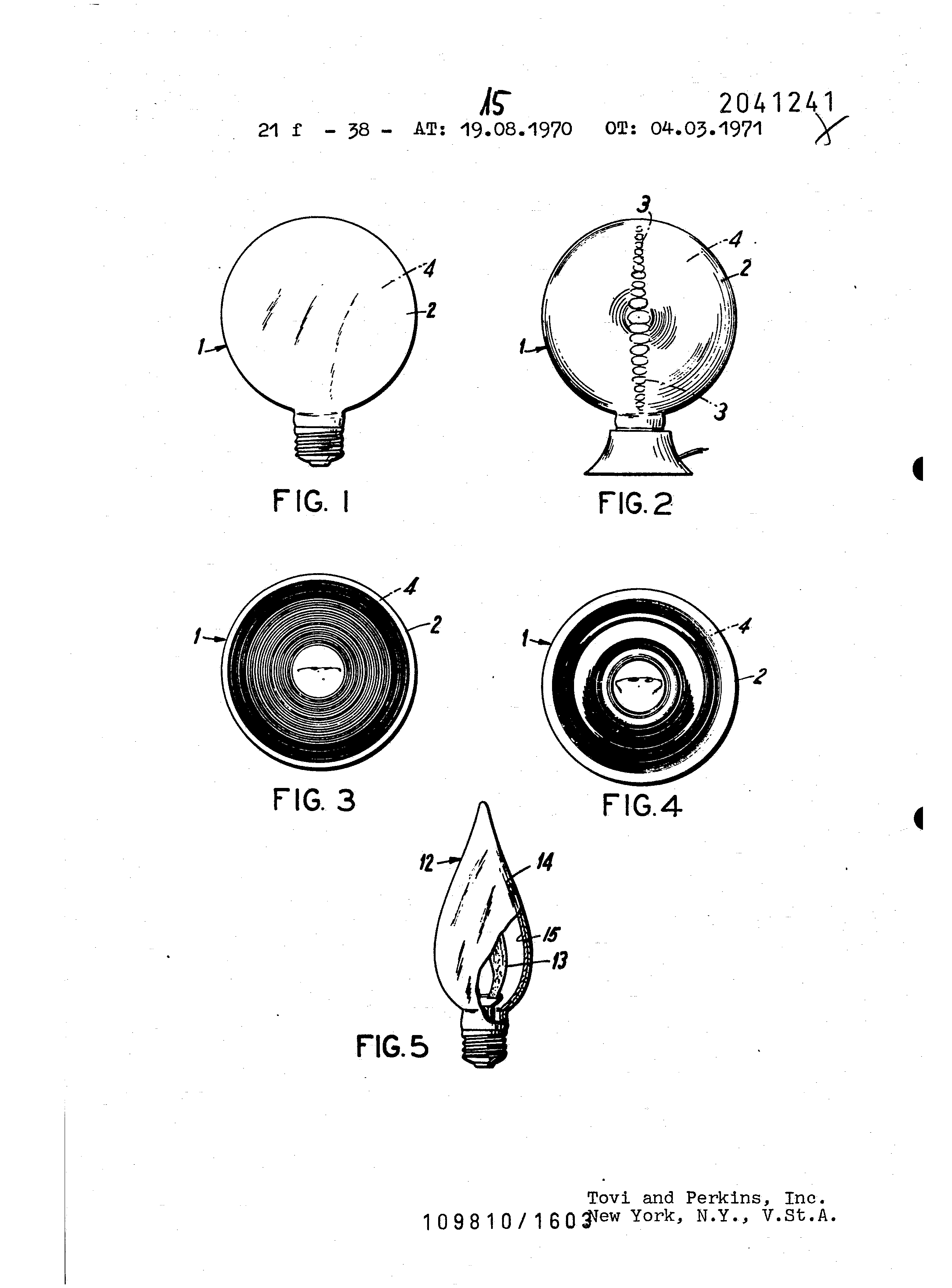 LIGHTING PATENT
TWO-WAY MIRROR LIGHTING 
It has been shown that the use of double mirrors create unusual and interesting lighting effects with luminaries. A Double mirror has one made of glass or another transparent material existing, reflective surface whose mirror layer is on the one hand so thick that it reflects light but is thin enough to allow bright light to pass through. Such mirrors are already used to generate special signals for espionage purposes and secret observations used. The effect of such a double mirror largely corresponds to that Effect of the smooth surface of a pool of water with a dark background a sunny day, the surface of which acts as a mirror, although the water itself is translucent.
LIGHTING PATENT
ROTATIONAL LIGHTING SYSTEM 
A remotely controlled rotational lighting system for illuminating any chosen area of a room. A first motor is mounted on the ceiling at the approximate center of the area to be illuminated. A main support arm extends from the shaft of the motor and lies in a substantially horizontal plane. A second motor is suspended at one extremity of the main support arm and mates with a fixture support arm. A cluster of lighting elements is mounted at one extremity of the fixture support arm, while a set of counterweights is mounted at the other extremity.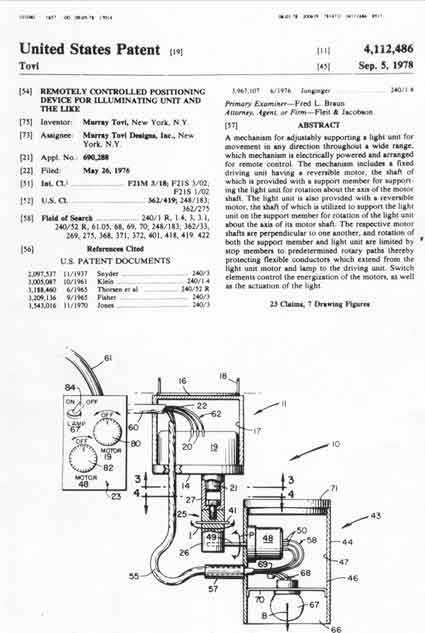 LIGHTING PATENT
REMOTELY CONTROLLED ILLUMINATION POSITIONING DEVICE 
A mechanism for adjustably supporting a light unit for movement in any direction throughout a wide range, which mechanism is electrically powered and arranged for remote control. The mechanism includes a fixed driving unit having a reversible motor, the shaft of which is provided with a support member for supporting the light unit for rotation about the axis of the motor shaft. The light unit is also provided with a reversible motor, the shaft of which is utilized to support the light unit on the support member for rotation of the light unit about the axis of its motor shaft.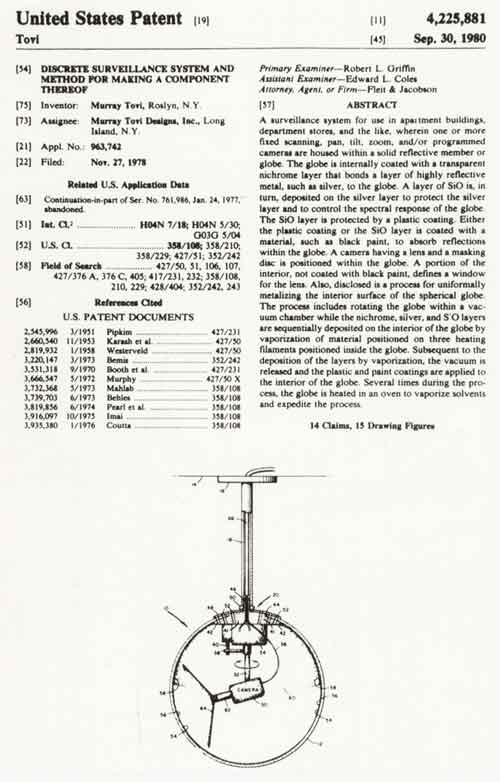 SECURITY PATENT
DISCREET SURVEILLANCE SYSTEM 
Fixed scanning, pan, tilt, zoom, and/or programmed cameras are housed within a solid reflective member or globe. The globe is internally coated with a transparent nichrome layer that bonds a layer of highly reflective metal, such as silver, to the globe. A layer of SiO is, in turn, deposited on the silver layer to protect the silver layer and to control the spectral response of the globe.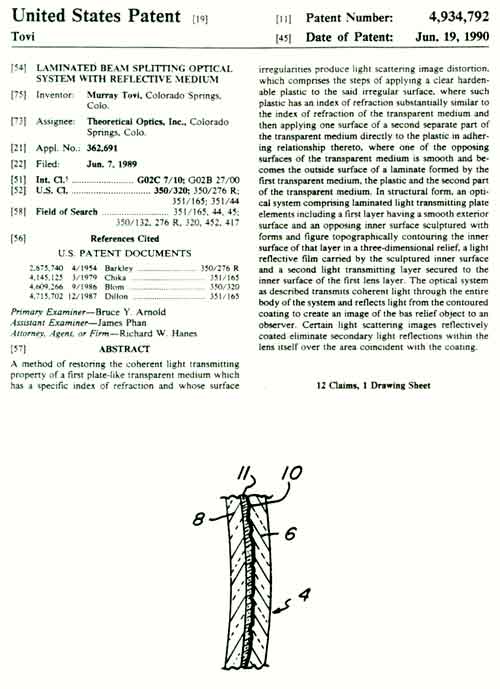 SECURITY PATENT
INVISIBLE SURVEILLANCE 
Beam Splitting Optical System with Reflective Medium
A method of restoring the coherent light transmitting property of a first plate-like transparent medium which has a specific index of refraction and whose surface irregularities produce light scattering image distortion.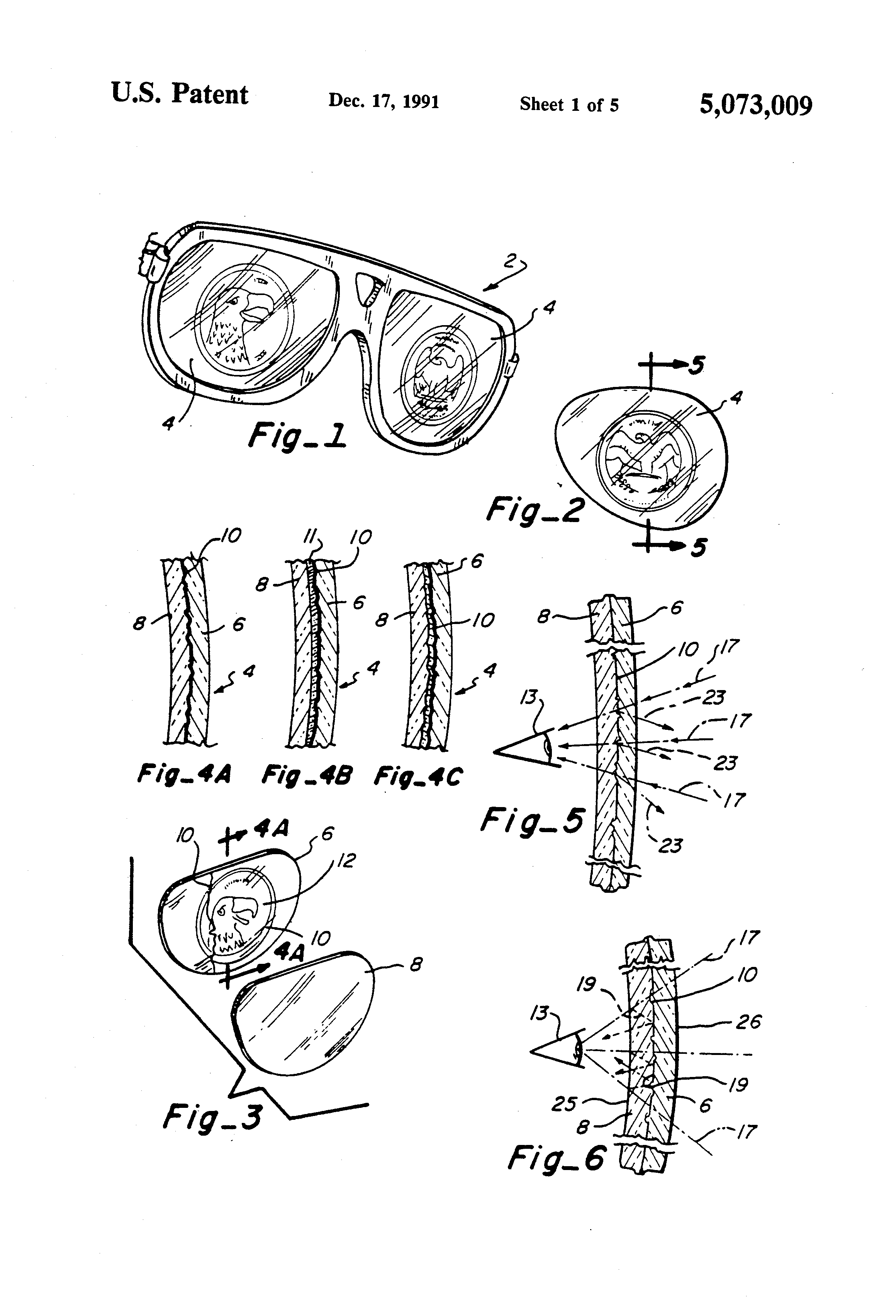 OPTICS PATENT
MIDAS EYES 
Beam Splitting Optical System with Reflective Medium
The method of making an optical layered structure having irregularities on a surface contained therein, so that an image of said surface irregularities is reflected, while permitting coherent light transmission through said structure.
Futurist. Scientist. Artist.
The Designs and Inventions of Murray Tovi have been featured in publications such as Vogue, Glamour, House & Garden, Architectural Digest, Popular Science, Popular Mechanics, and The New York Times.