Biological Illumination Systems For People, Plants, and Animals
Murray Tovi, in 1987, discovered that four neon tubes comprised separately of red, yellow blue and green emissions produced the same amount of white light, incombination, of four white fluorescent tubes of the same total wattage. Its first application was as an art form (see Functional Energy Art) that produced energy efficient illumination replicating fluorescent light (warm or cool white), incandescent light, daylight (dawn to dusk), etc. simply by controlling the voltages going into the multi-colored neon tubes making up the sculpture.
Gallery Exhibit of Functional Energy Art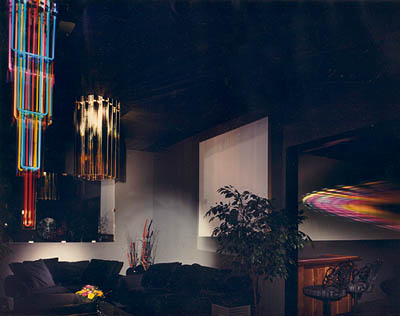 Thus, conventional illumination devices, when there is a benefit, could hypothetically be replaced with this new approach.
For example, in a zoo, replicating the sunlight spectrum of a natural habitat for endangered species, or an old age home in Minnesota replicating the sun in Miami Beach, etc.
Pioneering the concepts in this field starting in 1985, the technology has since branched into different directions. Artificial sunlight now brings sunshine into dreary spaces, and it is readily available for installation in homes, schools and business. See examples. The technology is real enough to trick your brain into believing it is actual sunlight.
Going in a different direction, there are now artificial suns which re-create the fusion reactions of our own sun. What's next? an artificial world perhaps.
---
Futurist. Scientist. Artist.
The designs and inventions of Murray Tovi have been featured in publications such as Vogue, Glamour, House & Garden, Architectural Digest, House Beautiful, Popular Science, Popular Mechanics, and The New York Times.